This article is about the episode. For the character of the same name see Shane McArnold.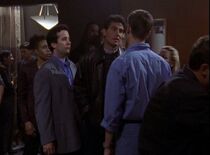 "Shane"
"Shane" is the sixth episode of the second season and the twenty ninth episode of the series overall. It originally aired on December 7, 1999. It was written by Kevin Falls & Matt Tarses & Bill Wrubel and directed by Robert Berlinger.
The Vatican has declared that Hell isn't real, and Natalie struggles to understand why she should bother being a good person if there's no eternal punishment for sin. Casey interviews an old friend, baseball player Shane McArnold, but Dana won't let him clean up the tape to bury Shane's bigoted comments about New York City. After Dan and Jeremy spend over an hour recording and rerecording a ten-second commercial voiceover because Dan can't say Yevgeny Kafelnikov, Dan thinks he may need therapy after all.
Production
Edit
Starring
Guest starring
Co-starring
Dafidd McCracken as a patient
Opening Credits
Aaron Sorkin - Creator
Brian Grazer - Executive Producer
Ron Howard - Executive Producer
Tony Krantz - Executive Producer
Aaron Sorkin - Executive Producer
Rob Scheidlinger - Executive Producer
Thomas Schlamme - Executive Producer
Kevin Falls - Co-executive Producer
Matt Tarses - Producer
David Walpert - Co-producer
John Amodeo - Supervising Producer
Kevin Falls & - Writer
Matt Tarses & - Writer
Bill Wrubel - Writer
Robert Berlinger - Director
Closing credits
Bonnie Zane - Casting
Paula Rosenberg - Casting
Bruce Chevillat - Co-producer
Stephen Putnam - Associate Producer
Bill Wrubel - Executive Story Editor
Peter Smokler - Director of Photography
Theo E. Azzari - Production Designer
Janet Ashikaga - Editor
Bruce Chevillat - Unit Production Manager
Keri McIntyre - First Assistant Director
Shawn Hanley - Second Assistant Director
W.G. Snuffy Walden - Music
References
Edit