This article is about the episode. For the character of the same name see Sally Sasser.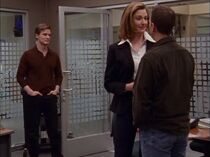 "Sally"
"Sally" is the sixteenth episode of the first season and the sixteenth episode of the series overall. It originally aired on February 23, 1999. It was written by Rachel Sweet & Aaron Sorkin and directed by Robert Berlinger.
Gordon stands Dana up, which makes her worried about their relationship. Jeremy is nervous about spending the weekend with Natalie's family, fearing conflict because they're Catholic and he's Jewish. Dan discovers that Casey has slept with Sally. Casey discovers that Gordon has also slept with Sally and confronts him about it.
Production
Edit
Starring
Guest starring
Co-starring
Ron Ostrow as Will
Jeff Mooring as Dave
Opening Credits
Aaron Sorkin - Creator
Brian Grazer - Executive Producer
Ron Howard - Executive Producer
Tony Krantz - Executive Producer
Aaron Sorkin - Executive Producer
Rob Scheidlinger - Executive Producer
Thomas Schlamme - Executive Producer
Tracey Stern - Producer
Rachel Sweet - Producer
John Amodeo - Produced by
Rachel Sweet - Writer
and Aaron Sorkin - Writer
Robert Berlinger - Director
Closing credits
References
Edit