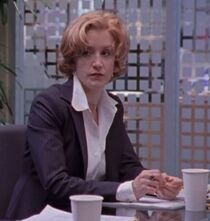 Dana Whitaker
Dana Whitaker is a major character in the first and second seasons of Sports Night. She is played by starring cast member Felicity Huffman and debuts in "Pilot". She is a live television producer. She is the Executive Producer of Sports Night.
Dana is from Cedar Rapids. She has six brothers, including Kyle, who plays professional football, but who is caught up in a doping scandal. She attended a series of exclusive all-girls schools. She has a relationship during the series with Gordon, an attorney, who has an affair with Sally Sasser while dating Dana. They become engaged, but the engagement ends because he believes she still has feelings for Casey in the wake of the revelation that both Gordon and Casey were seeing Sally.
ROLE.[1]
Community content is available under
CC-BY-SA
unless otherwise noted.