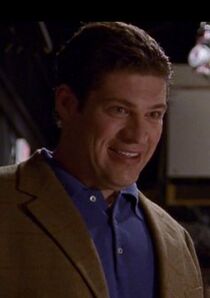 Christian Patrick
Seasons
1
First Episode
"

Mary Pat Shelby

"
Last Episode
"Mary Pat Shelby"
Played By
Brad Henke
Profession
Footbal Player
Gender
Male
Christian Patrick is a minor character in the first season of Sports Night. He is played by guest star Brad Henke and only appears in "Mary Pat Shelby". He is a professional football player and is infamous for sexually assaulting a woman named Mary Pat Shelby.
Biography
Edit
His agents Burke and Evans arrange for him to be interviewed on Sports Night. Natalie Hurley visits him at his home stadium to conduct a pre-interview. When he thinks they are alone in the locker room he makes sexual advances and grabs her wrist. The incident was witnessed and reported. After some debate the Sports Night team decline to interview him for their show. Natalie eventually comes forward and presses charges against him.[1]
Appearances
Edit
Season one appearances
"Pilot"
"The Apology"
"The Hungry and the Hunted"
"Intellectual Property"
"

Mary Pat Shelby

"
"The Head Coach, Dinner and the Morning Mail"
"Dear Louise"
"Thespis"
"The Quality of Mercy at 29K"
"Shoe Money Tonight"
"The Six Southern Gentlemen of Tennessee"
"Smoky"
"Small Town"
"Rebecca"
"Dana and the Deep Blue Sea"
"Sally"
"How Are Things in Glocca Morra?"
"The Sword of Orion"
"Eli's Coming"
"Ordnance Tactics"
"Ten Wickets"
"Napoleon's Battle Plan"
"What Kind of Day Has it Been?"
References
Edit